Nonprofit Basics: Cause Marketing
Increasingly, corporate philanthropy is viewed as necessary for businesses that are looking to grow their client base and attract top employees.
Today's consumers seek out brands that prioritize leaving a positive impact on society. According to the 2022 Edelman Trust Barometer, 58% of consumers would buy or advocate for brands based on their beliefs and values.
Plus, prospective employees seek out companies that offer corporate giving and volunteering opportunities. In fact, 71% of employees surveyed by America's Charities say it is "imperative" or "very important" to work where the culture is supportive of giving and volunteering.
Cause marketing is a great way for companies to engage in corporate philanthropy by promoting and supporting charitable organizations and causes.
What is cause marketing?
Cause marketing or cause-related marketing is marketing that is carried out by a for-profit business to advance a charitable cause or better society.
Cause marketing campaigns are conducted similarly to how a nonprofit organization would market its mission.
Cause marketing FAQs
You've probably heard of corporate philanthropy before, but may not be as familiar with the idea of cause marketing. Let's review a few common cause marketing questions:
Why do businesses participate in cause marketing?
It may seem counterintuitive for businesses to invest their resources in marketing for a charitable cause. However, cause marketing offers benefits like: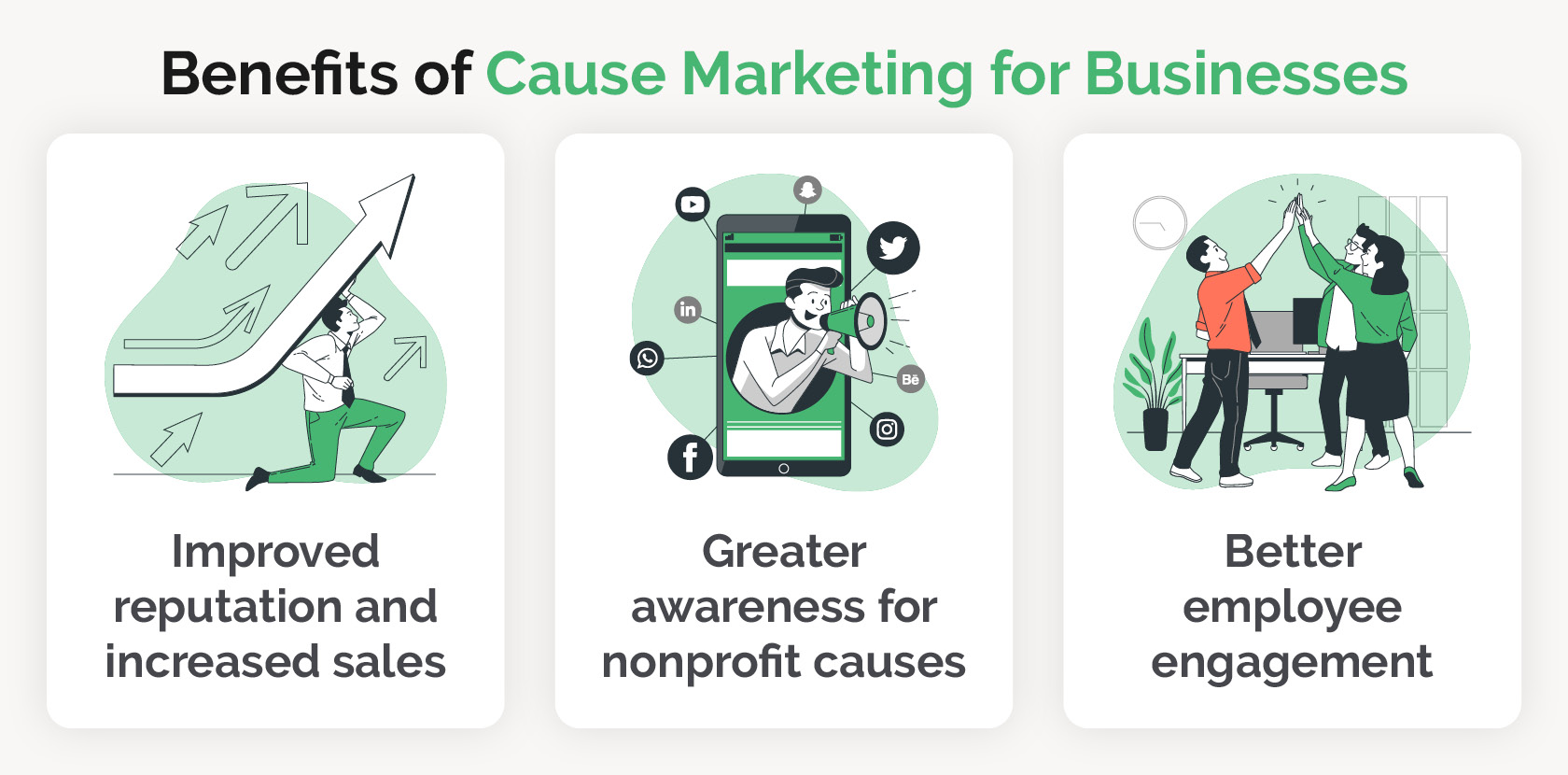 Improved reputation and increased sales for participating businesses. An Ivalua study gathered input from decision-makers and leaders in industries like finance, technology, and manufacturing. 69% of survey respondents reported that their organizations saw increased sales when they provided corporate social responsibility initiatives.
Greater awareness of nonprofits and nonprofit causes. Cause marketing brings greater awareness to nonprofit causes, strengthening the local organizations in your community. As a result, this can make your community a more welcoming environment, which an reflect positively on your business.
Better employee engagement. Aside from being an important factor in recruiting prospective employees, cause marketing also encourages current employees to give back to society and donate to nonprofits they care about. As a result, employees can feel more engaged and fulfilled at work, contributing to higher job satisfaction rates.
Cause marketing and corporate accountability go hand in hand. These campaigns are something extra that corporations can do to bring positive social value and take part in philanthropic causes. And a well-thought-out, engaging cause marketing campaign can be a powerful way to set your business apart from its competitors.
What are some effective examples of cause marketing?
Cause marketing campaigns can take many different forms. Some are focused on marketing a charitable cause while others involve offering corporate giving and volunteering opportunities for employees. Here are a few examples of effective cause marketing campaigns and initiatives:
Looking for more examples? Check out TopNonprofits' roundup of cause marketing examples for other effective cause marketing ideas.
How to start a cause marketing campaign
Cause marketing campaigns emulate nonprofit marketing campaigns in many ways. Both types of campaigns are meant to further a social cause or bring attention to a charitable mission. Here are the steps to starting a cause marketing campaign:
Choose a charitable cause to support. Make sure to pick a cause that aligns with your business's values and purpose. For example, if your business is a doggy daycare, you might choose to support a local animal shelter.
Develop your message. Keep in mind what the goal of your campaign is and why it's important. You can also come up with a unique slogan or hashtag for your campaign to help promote it on social media.
Create branded marketing materials. Your marketing materials should be polished and eye-catching. They should also be branded consistently, from fonts to colors to logos.
Track campaign engagement metrics. This includes metrics like social media engagement, email open rates, and click-through rates. Keeping an eye on these data points will help you understand if your campaign resonates with your audience.
Since cause marketing campaigns and nonprofit marketing campaigns are similar, feel free to browse Getting Attention's ideas for nonprofit marketing to get inspired for your campaign.
Other Resources to Explore
Nonprofit Basics – Learn more about nonprofit management essentials by exploring other expert resources.
A 2021 Guide to Nonprofit Marketing  – Follow these steps to improve your nonprofit's marketing strategy to meet your goals and deepen relationships with donors.
Corporate Social Responsibility: The Definitive Guide  – Still not completely sold on corporate giving? This article dives even deeper into CSR and the benefits it can bring to your business.
https://doublethedonation.com/wp-content/uploads/2022/11/Getting-Attention_Double-the-Donation_Nonprofit-Basics-_-Cause-Marketing_Feature.jpg
760
2000
Adam Weinger
https://doublethedonation.com/wp-content/uploads/2022/03/logo-dtd.svg
Adam Weinger
2022-07-19 18:20:30
2023-08-11 15:12:57
Nonprofit Basics: Cause Marketing