Nonprofit Basics: Charity eCards
Nonprofits are challenged to capture and maintain their supporters' attention every day. If your standard development efforts aren't measuring up to expectations, it might be time to rethink your online fundraising strategies. Try creating charity eCards to reinvigorate your supporters and provide an interactive way to support your work.
From environmental organizations to churches, any cause can get in on the action and create charity eCards. They're a fantastic way to raise extra revenue and spread awareness for your mission without requiring too much extra work for your team.
If this sounds like an exciting opportunity, we're here to help. Before diving into crafting your nonprofit eCards, let's review the fundamentals!

What Are Charity eCards?
Charity eCards are digital greeting cards that supporters can send to loved ones to celebrate special occasions and spread awareness for an organization. Some nonprofits even create virtual greeting cards for staff to show appreciation for committed supporters and corporate partners.
Perfect for any organization, they're a low-cost, eco-friendly way for donors to make a difference without having to spend a lot of money. They also serve as a powerful source of peer referrals. Whenever someone purchases a nonprofit eCard, they can create a personalized message to go along with it. This allows them to express their love for the cause and encourage their loved ones to look into the nonprofit, too. All you need to power these campaigns is an online greeting card website.
Types of Charity eCards
What makes nonprofit eCards so valuable is their versatility. Whether you're creating a few for a cause awareness campaign or offering a year-round collection, there are countless ways you can incorporate them into your work.
Let's take a look at a few ideas and examples that'll supercharge your approach to nonprofit eCards!
Cause Awareness Campaign eCards
As explained in Fundraising Letters' guide to digital cards, "Cause awareness days help nonprofits raise support for particular causes by engaging people in dialogue and inspiring them to take action. If there's an awareness day associated with your cause, that's the perfect opportunity to design an eCard that supporters can send to their loved ones."
Environmental organizations can celebrate Earth Day. Mental health organizations can boost awareness during Suicide Prevention Week and World Mental Health Day. Homeless prevention organizations can amplify their work during Poverty in America Awareness Month or Hunger and Homelessness Awareness Week. Do some research and see if there's a day, week, or month connected to your work.
Even if there's not one associated with your mission, you can launch an awareness campaign to gain support and credibility. This is a great way to position your organization as a pioneer in the space.
Either way, there are two approaches you can take when offering these nonprofit eCards:
Offer them for free. Create a collection of three or four eCards. Then, encourage your supporters to share their favorite designs with their friends and family.
Connect them to a fundraiser. Have supporters donate and then send eCards letting their loved ones know and encouraging them to do the same.
To spark inspiration, we've pulled an example from Peace Winds. For World Refugee Day, the organization offered a collection of Father's Day cards that highlighted refugees' situations. Since the two holidays fall near each other each year, supporters could select an eCard to send to a father figure in their life while also spreading awareness for the cause.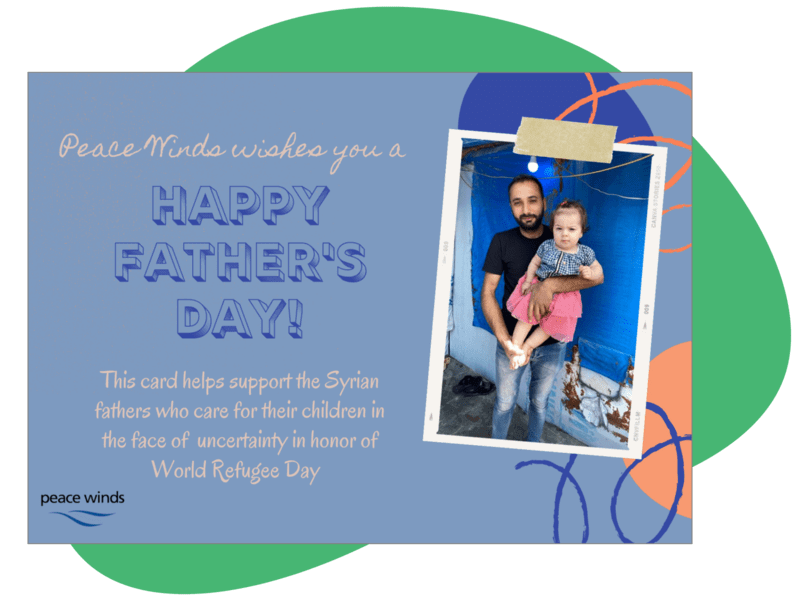 Invitations
When planning your next event, create virtual invitations your supporters can send to their loved ones. Invitations can help boost registrations, whether it's a massively-attended 5K or a small volunteer appreciation event. Especially when sent by a loved one or someone at the organization, invitations can add a personal touch to your event promotion.
You'll want to offer this type of nonprofit eCard for free. Include key details like the date, time, and location of your nonprofit's event, either in the message that populates with each eCard or on the card itself. Make it incredibly apparent the event is associated with your nonprofit by using your nonprofit's branding, such as your logo, colors, and fonts.
For this example, we've grabbed a church service invitation from Vineyard Vines. At any point during the year, church members can grab their favorites and send them to invite someone to the next service personally. The church keeps its strategy fresh by creating new nonprofit eCards for special services, like Easter.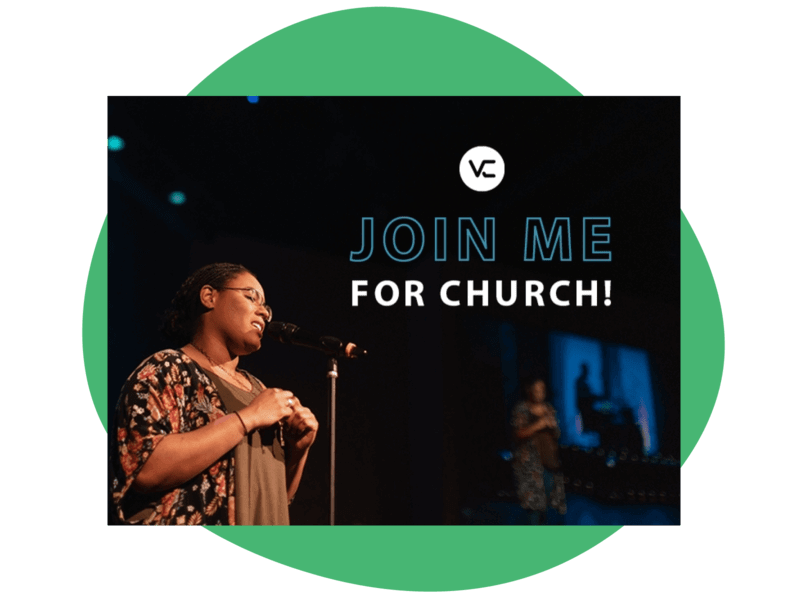 Birthday and Holiday eCards for Nonprofits
Spread some birthday and holiday cheer with personalized eCards for your cause. Birthdays and holidays happen year-round, so you can create digital greeting cards for every occasion. Best of all, people already send personalized cards during these special days, making them the perfect fundraising opportunity. After all, who wouldn't want to send a card that's also associated with a cause the recipient cares about?
Beyond birthdays, some holidays that lend themselves well to cards include:
New Year's
Valentine's Day
Easter
Mother's Day and Father's Day
Halloween
Thanksgiving
Christmas, Hannukah, and other year-end holidays
This strategy works especially well for holidays associated with gifts. Instead of finding the perfect gift to celebrate a birthday or holiday, the sender can simply donate in the recipient's name. Then, they'll select a nonprofit eCard, letting them know. Either create generic cards for holidays or tailor them to your cause.
Let's look at a Valentine's Day charity eCard example from One Tail At A Time. As an animal rescue organization that supports under-resourced animal shelters and pet families, they connected the holiday to their furry friends. As part of their Puppygram campaign, they created a series of charity eCards that featured One Tail's rescue animals. Supporters could purchase each card for $25.
Supporters could also donate $500 to have a "puppygram" delivered directly to someone. With this option, the organization would show up with a couple of rescue pups directly to someone. To take the puppy cuddles up a notch, a donor could give $1,000 to have a whole litter of pups show up. What an innovative way to spread cause awareness and love on Valentine's Day!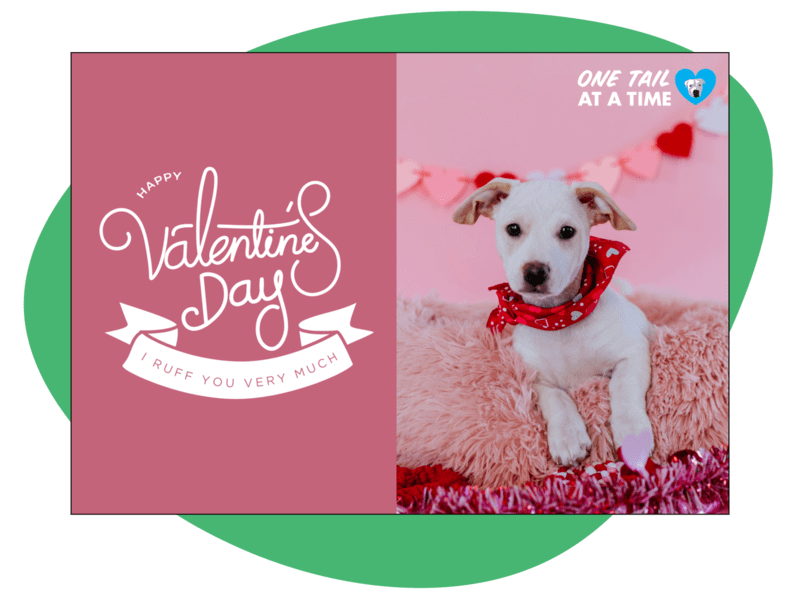 Appreciation Charity eCards
Thank-you cards are a time-tested tradition for expressing gratitude for someone's generosity and growing relationships. There are a few approaches you can take with this type of nonprofit eCard:
Create a simple thank-you card for your supporters to send to loved ones.
Have your team use these cards to cultivate relationships with donors, sponsors, and volunteers.
Have leadership and staff members express appreciation for hardworking colleagues.
As explained in eCardWidget's guide to employee engagement, getting creative with your appreciation tactics allows you to form interpersonal connections and celebrate major milestones. It doesn't matter if they're donating, volunteering, or working hard every day as a staff member. Everyone deserves some recognition, no matter how they support your mission!
To get your creativity flowing, let's look at an example from Youth For Understanding. This card was part of a collection that was launched for a specific appreciation campaign but offers a generic design you can emulate.
While each example we've explored has been tailored to each organization, this design is a great example of a generic charity eCard you can offer. It suits every occasion, no matter who's sending it. Whether you send these greeting cards internally or let supporters get in on the action, a thank-you card is a must for your nonprofit eCard collection.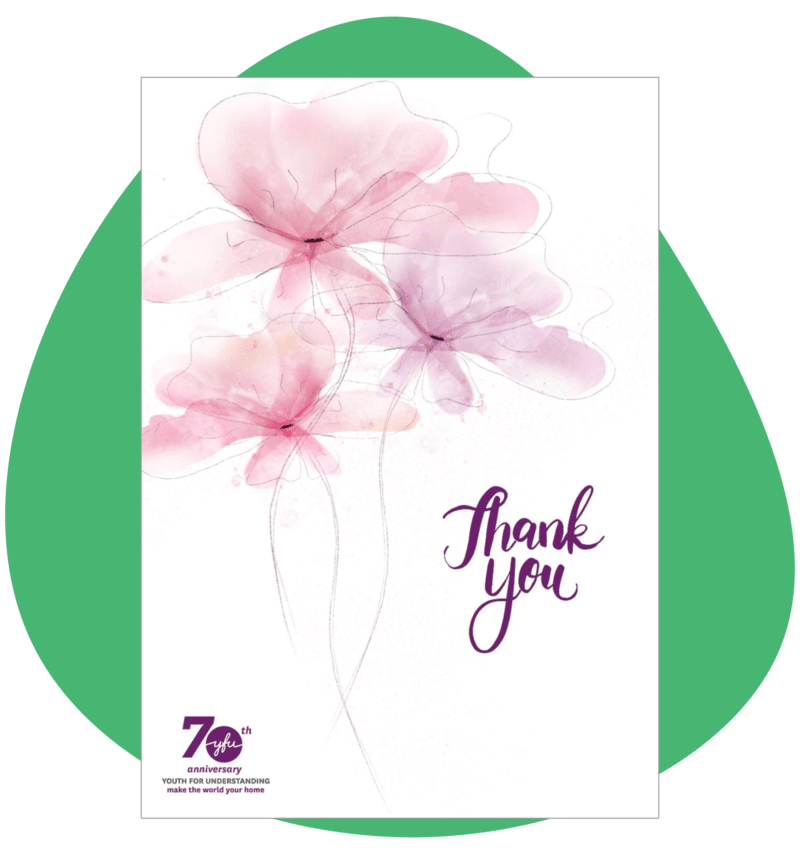 How to Create Spectacular Nonprofit eCards
Even if you're not an expert graphic designer, you can create charity eCards that generate more awareness and donations for your cause. So long as you use an intuitive eCard service, you'll have access to every design tool you'll need, whether you want to work off a template or start from scratch.
Here are a few ways to make engaging eCards that excite your team and supporters:
Infuse your nonprofit's brand. Connect each nonprofit eCard to your mission by using your colors, logo, font, and graphics associated with your cause. Edit the message associated with each eCard to emphasize that all proceeds of the eCard purchase will go to your nonprofit.
Add a call to action to each eCard. The best way to do this is to edit the message that will be sent with each eCard. Direct the recipient to your nonprofit's website where they can learn more about your cause. Make it clear whether you want them to donate, volunteer, register for an event, or simply read about your work.
Get creative with how you offer eCards. You might offer them for free or in exchange for a donation. Remember, you can also allow staff to send them to supporters or to their colleagues to recognize outstanding work. The right eCard platform will give you a few options. Some offer fundraising tool integrations, allowing you to integrate eCards into the donation process or sell them as fundraising products in your nonprofit's eStore.
Other Resources to Explore
Nonprofit Basics – Learn more nonprofit management essentials by exploring other expert resources.
Donation eCard Examples that Share the Joy of Giving – Explore other charity eCard examples from real organizations and start brainstorming how you'll use your cards to boost your fundraising revenue.
Birthday Fundraisers: How to Secure Year-Round Support – Birthday eCards are a great way to bring in donations. Get guidance for your birthday eCards and dive into some other tried-and-true birthday fundraisers with this guide.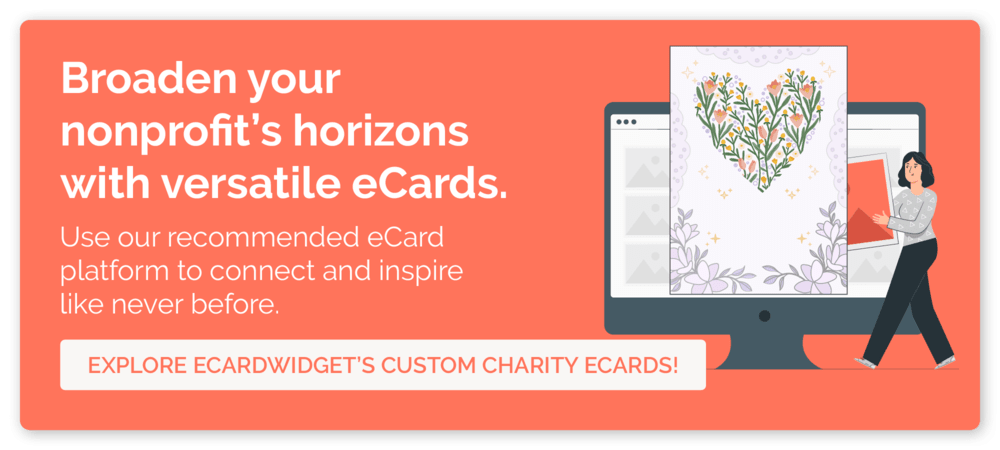 https://doublethedonation.com/wp-content/uploads/2022/10/Charity-eCards_Feature.jpg
380
1000
Adam Weinger
https://doublethedonation.com/wp-content/uploads/2022/03/logo-dtd.svg
Adam Weinger
2022-10-27 14:48:56
2023-10-17 11:54:39
Nonprofit Basics: Charity eCards