How Corporate Volunteer Grants Increase Employee Engagement
Employee engagement is generally defined as the emotional and functional commitment an employee has to achieving the mission of the organization. At most companies, there's a lot of lip service paid to making sure employees are engaged. But have you ever wondered why? Have you thought about strategies companies can use to increase employee engagement?
One of the most effective ways to increase employee engagement is through corporate volunteerism—more specifically, volunteer grants.
We'll outline the basics around employee engagement and volunteer grants in this article. Let's get started!

Basic Facts About Employee Engagement
To better understand employee engagement, we turned to Dale Carnegie Training, which has done extensive research into the topic. A few key insights include:
When an employee is disengaged, there is a high likelihood that this individual will seek employment elsewhere.

71% of employees are not fully engaged.

Companies with engaged employees outperform other companies by about 202%.
When employees feel a strong connection to their company, they are likely to be more engaged and less likely to leave. Disengaged employees tend to view their job as nothing more than a paycheck.
One of the ways your company can encourage employee engagement is through employee engagement software. If you're going to put a lot of effort into your engagement strategy, it's important to choose the right solution that encourages employee participation in several of your company-sponsored programs.
Read on to learn more about what to look for in an employee engagement software solution!

One of Our Top Employee Engagement Ideas: Volunteer Grants
So, how do you engage your employees? First, you should be aware of four traits that engaged employees exhibit:
They are inspired.

They are confident.

They are enthused.

They are empowered.
While there is a wide array of actions a company can take to help its employees become more engaged, we'll discuss one very important action in this article: corporate volunteer grants.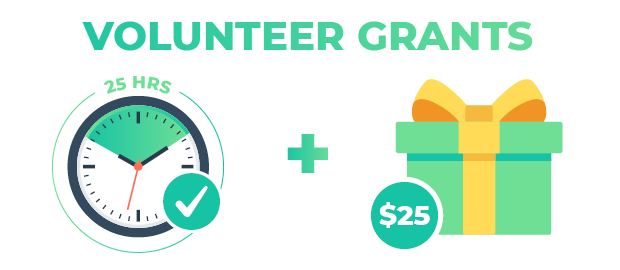 Corporate volunteer grants are a type of corporate giving program that encourages employees to volunteer in the communities in which they live and work. Employers provide monetary grants to eligible nonprofits whenever an employee takes time to volunteer.
These grants are generally paid out in two ways:
A set amount per hour of volunteering (e.g., $10 per hour, with a minimum of 10 hours)

A set rate once a certain volunteer threshold has been reached (e.g., $250 once an employee has volunteered 20 hours)
Of course, it's important to remember that these payment structures vary from company to company. But when employees understand their company's guidelines and are actively encouraged to participate in their volunteer grant program, that becomes a huge revenue stream for nonprofits.
How can volunteer grants increase employee engagement?
It has also been shown that employers who offer volunteer grants and other volunteer programs and encourage participation in them are more likely to have employees with the same shared sense of philanthropy.
Employees are proud to work for a company that involves itself in the community and are more likely to bring a good name to your business via volunteerism.

Beyond corporate volunteer grants, offering opportunities for individual employees to volunteer (like paid time off for volunteer days) can also increase employee engagement.
There are many statistics that back up the idea that workplace giving and volunteer programs can boost engagement. Need some numbers?
A study by Dale Carnegie surveyed 1,500 employees and found that 54% of employees who were proud of their company's contributions to society were engaged.

A Lloyd Morgan survey of 50,000 employees showed that by increasing employee engagement levels, organizations could expect an 87% reduction in employees' probability of departure.

A Deloitte survey suggests that 61% of millennials who rarely volunteer would still consider a company's commitment to giving back to the community when evaluating job opportunities.
Offering volunteer grants and other volunteering opportunities can boost productivity, make employees happier, and increase their tenure with your company.
Group Volunteer Activities
Another good method of increasing employee engagement is to encourage group volunteerism.
Group volunteerism increases camaraderie amongst employees who may not usually interact with each other. It also increases employee engagement by producing a shared sense of purpose among coworkers.
Some companies take it a step further by providing grants when teams of employees volunteer together. It's a great way for companies to support the organizations that employees are passionate about.
When companies implement programs like corporate volunteer grants and group volunteer activities, the most immediate benefit is that a local nonprofit receives both donations and time from individuals who deeply care about their causes. However, corporate volunteerism can also help boost employee engagement by producing a shared sense of purpose among employees and between themselves and the company.

Employee Engagement Software
While corporate volunteerism means finding opportunities for your team to volunteer together, as well as providing additional monetary grants to nonprofits, it can be challenging to track all of the volunteer hours and grant requests that come through.
If you're looking for a way to streamline your company's volunteer opportunities and grants, consider investing in employee engagement software.
This type of software helps bring your team together and promotes an engaged company culture.
For example, by using employee engagement software to manage your volunteer program, you'll be able to:
Create custom volunteer events.

Find local opportunities for employees to participate in.

Review and approve volunteer grant requests.
When you streamline your process for tracking volunteer opportunities and grant requests, you'll make it easier for your employees to participate in these activities. Additionally, you can easily track your progress and have a better picture of the impact you're making.

Additional Volunteering & Employee Engagement Resources
It's clear that corporate volunteer grants can increase employee engagement. Why not look into other ways you can keep your employees happy, productive, and fulfilled?
Here are some additional resources below:

https://doublethedonation.com/wp-content/uploads/2022/05/Corporate-Volunteer-Grants-and-Employee-Engagement-Feature.jpg
540
1450
Adam Weinger
https://doublethedonation.com/wp-content/uploads/2022/03/logo-dtd.svg
Adam Weinger
2015-09-02 11:00:47
2022-06-20 07:54:13
How Corporate Volunteer Grants Increase Employee Engagement