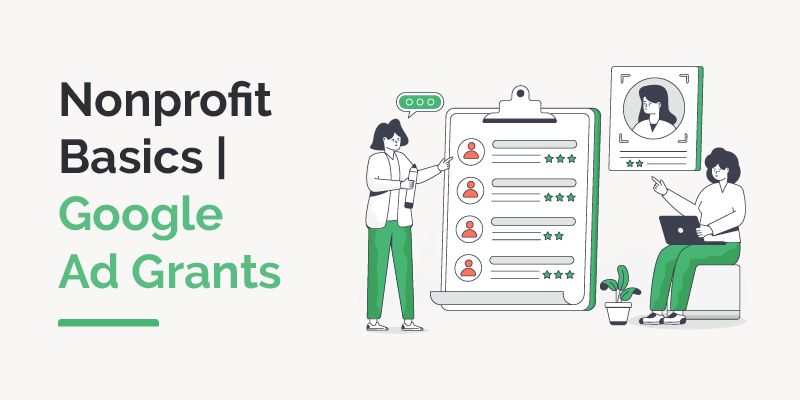 Nonprofit Basics: Google Ad Grants for Nonprofits
As one of the most influential companies in the world, Google empowers charitable organizations to increase their visibility within Google Search for free through its dedicated corporate giving program called Google Ad Grants. We'll cover everything you need to know about this program.
Since Google has over 92% of the global search engine market share, you'd be remiss to turn down the free advertising money. The program can help you connect with prospects around the world without negatively impacting your marketing budget.
What Are Google Ad Grants?
The Google Ad Grants program awards organizations $10,000 worth of Google Ads credits each month. Eligible organizations use these credits to bid on keywords and promote their web content. With free access to Google's keyword research tools, nonprofits can place compelling ads in prominent locations on Google Search results pages, connecting them with likely supporters for their cause.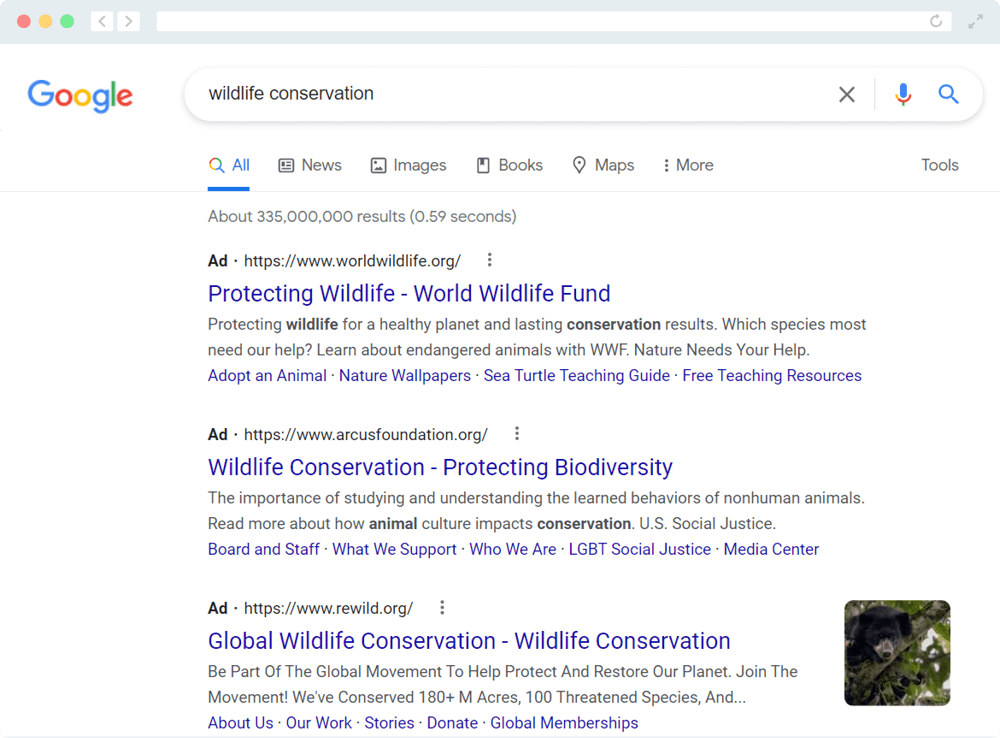 Google's program enables nonprofits to go beyond driving more meaningful website traffic. Depending on the pages you promote with the Google Grant, here's how the Google Ad Grant can support your initiatives in more creative capacities:
Increase revenue by sharing donation and sponsorship opportunities.
Recruit volunteers to support your projects.
Boost attendance for your webinars, charity races, and other events.
Effect change through grassroots activism, petitions, and other advocacy activities.
Inform and educate users about your cause and work.
Participants can fully leverage the program by crafting powerful ad copy combined with effective keyword research, strategic bidding strategies, and carefully-chosen landing pages.

How To Get Started With Google Ad Grants
The good news is that Google makes it straightforward to join the program. Applying for the Google Grant is a simple, multi-step process. Here's what you'll need to do: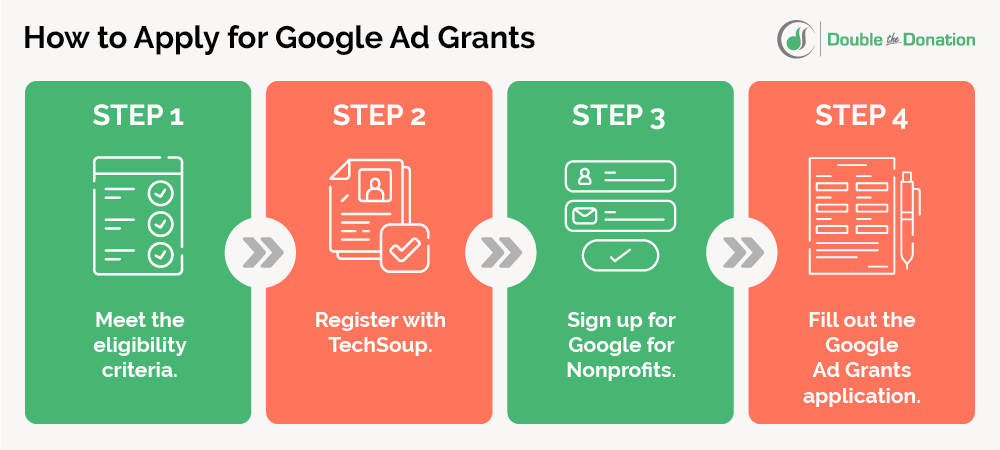 Meet the requirements. You'll need to agree to the program's policies, hold valid charity status, and have a high-quality website to meet the eligibility criteria. Governmental entities, healthcare organizations, and educational institutions are automatically ineligible.
Register your organization with TechSoup. TechSoup partners with companies like Google to provide mission-driven organizations with free and discounted resources. Visit the TechSoup registration page and fill out the required information. They'll get back to you with a validation token within 30 days.
Sign up for Google for Nonprofits. Visit Google for Nonprofits' registration website, input your TechSoup validation token, and fill out the subsequent forms. Once you're approved, this will unlock the Google Grants application. Plus, you'll have access to a variety of other organizational tools and perks through Google for Nonprofits.
Apply for the Google Ad Grant. Log into your Google for Nonprofits account and fill out the Google Grants application. You'll provide additional identifying information, such as your website URL and details regarding your goals with the program.
Keep an eye on your email for your invitation within the next few business days. Once you're approved, you'll automatically receive $329 per day to spend on your Google Ad campaigns.
Best of all, the grant will automatically renew each month. You just need to keep your account in good standing by adhering to the ongoing compliance requirements.
Make the Most of Your Google Ad Grant Budget
As with any marketing effort, you need a carefully-crafted plan to drive real results for your nonprofit. Let's walk through some tried-and-true tips.
1. Optimize your website.
Your Google Ads will drive traffic to your website. With this in mind, you should prioritize the user experience to drive more donations, boost volunteer registrations, or achieve any other goal. Ultimately, you want users to click through your site to find a professional design that drives them to engage with your organization.
Here are a few elements of your website to consider:
Promotable pages: Fill your site with high-quality content to promote through Google Ads. Each page should be centered around a core topic, whether it's your donation form, volunteer registration page, or information about a major initiative.
Mobile responsiveness: Half of all nonprofit website traffic comes from mobile devices. Mobile users will likely encounter your Google Ads, so make sure your design automatically reformats itself based on screen size.
Security: Your website should encrypt information users share with you. Your URL should show "https" instead of "http" to offer users greater protection on your site.
Organizational information: List your EIN somewhere on your site, preferably in your website's footer. You might also have a page devoted to explaining your mission.
Tie all of these elements together with powerful graphic design. This will create a cohesive site that inspires users to explore your site and convert into supporters.
2. Create robust ads with compelling copy, landing pages, and ad extensions.
Optimize your ads by paying special attention to these core building blocks for your ads:
Landing pages: These are the pages you'll drive users to visit. Choose ones that match the user intent for your keywords and are designed to drive users to complete the desired action. For example, if you're targeting terms like "animal rescue volunteering," you should link to your volunteer registration page.
Copy: Users will read this to understand the content of your landing page and determine whether it meets their needs. Ensure your ad copy is specific, concise, and strategically features keywords. You'll also want to include a call-to-action with action verbs such as "donate," "sign up," or "support" to tell users what next step you want them to take.
Ad extensions: These allow you to expand your ads with additional information. For instance, sitelink extensions allow you to link to additional landing pages on your website, while call extensions include a button that mobile users can tap to call your organization.
These will result in more compelling ads and ultimately drive more clicks and meaningful traffic to your nonprofit's website.
3. Maintain compliance. 
Nonprofits interested in the Google Ad Grant need to keep a few requirements in mind when selecting their keywords and monitoring their campaigns. Specifically, they need to:
Use keywords longer than a single word.

Choose keywords

that are at least two or three words long. This helps ensure that your content is more closely aligned to specific search queries. However, Google does allow a few

exceptions

specifically for nonprofit ad campaigns.

Avoid generic keywords.

Generic keywords provide little context for what content a website visitor is about to click on. For example, "e-books and downloadable content" does not explain what type of content visitors would download. Choosing words specific to your mission and goals also increases the chances that the visitors who click on your ads will be interested in your content.

Remove or pause campaigns with low-quality scores.

Quality scores are a 10-point assessment of your campaign's relevance to the keyword, useful content, and potential to earn a high CTR. Google Ad Grant campaigns must have a quality score of at least three. If you have campaigns with lower quality scores, pause or remove them.

Maintain a 5% click-through rate (CTR) each month.

Google Ad Grants accounts that fail to achieve a 5% CTR for two consecutive months may be deactivated. You can avoid this by ensuring all of your ad campaigns are enabled and potentially pausing ad campaigns that have a high impressions rating but low CTR.

Have valid conversion tracking.

All Ad Grants accounts created after January 2018 need accurate conversion tracking. You can track your conversions by creating a Google Analytics account and connecting it to your Google Ad Grants account. Set a goal in Google Analytics related to the action you want a supporter to take after clicking on one of your ads, like donating. Then, import your goal to Google Ad Grants, so you can monitor if supporters who click your ads go onto complete your target goal.

Have at least two ads per ad group and two ad groups per campaign.

When launching a Google Ad campaign, you'll create ad groups. Ad groups are multiple ads that target the same keyword cluster of closely related terms. For example, you might target both "donate" and "charity" in separate ads in an ad group. Creating multiple ad groups helps get your ad in front of more people searching keywords related to your nonprofit. 

Use at least two sitelink ad extensions.

Sitelink ad extensions make your ads better and provide searchers with more opportunities to click on your ads by listing additional pages on your website that are relevant to the searcher's query. 

Respond to the Ad Grant program survey.

Google surveys Ad Grant participants every year. Your survey will be sent to the email addresses connected to your Google Ad Grants account. Be sure you get a confirmation email when you have completed your survey. You can also

access the survey

directly from Google if you aren't receiving confirmation notices. 
Maintaining compliance makes your ads better and ensures you continue getting Google Ad Grant funding. Of course, meeting all of these requirements can be difficult, especially when you're just getting started. That's why many nonprofits turn to consultants for help.
4. Consider professional Google Ad Grants management.
A lot goes into managing a Google Ad Grant account between developing compelling ads and meeting ongoing requirements. The last thing you want is your account to be deactivated after not meeting the compliance requirements.
That's where a professional Google Grants manager can step in to save the day. Turn to a professional to ease your marketing team's workload through services like:
Google Ad Grants applications
Campaign development, including keyword research and ad copy development
Landing page optimization
Ongoing compliance and account reactivation
Professionals know what it takes to stand out on Google Search. They know the ins and outs of the program, so you can sit back and relax knowing that you're inspiring as many prospects as possible.

Other Resources to Explore
Nonprofit Basics – Learn more nonprofit management essentials by exploring other expert resources.
Hiring a Google Grants Agency: A Guide and 5 Expert Agencies – Explore the role a professional Google Grants manager can play further. Plus, get our top agency recommendations.
What Is A Google Ad Grant? The Ultimate Guide for Nonprofits – Continue researching the basics of the Google Ad Grant with this complete guide from the experts at Getting Attention.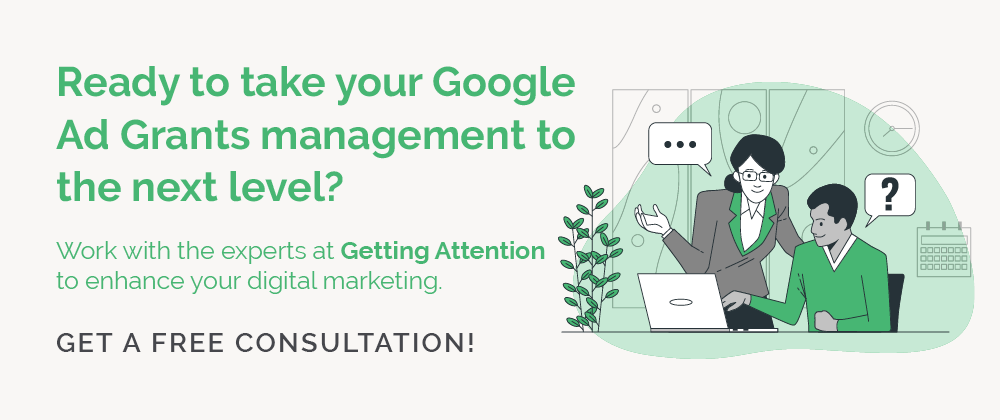 https://doublethedonation.com/wp-content/uploads/2022/11/Google-Ad-Grants_Feature.png
400
800
Adam Weinger
https://doublethedonation.com/wp-content/uploads/2022/03/logo-dtd.svg
Adam Weinger
2022-12-20 20:13:09
2023-08-09 17:39:09
Nonprofit Basics: Google Ad Grants for Nonprofits