Nonprofit Basics: Data Append
Today's marketers rely on data to make informed decisions that increase response rates, inspire action, and ultimately cultivate meaningful relationships. Nonprofit marketers and fundraisers in particular stand a lot to gain from maintaining the data stored in their CRMs. But your supporters move, change their phone numbers, and generally evolve as individuals over time. That means your data can quickly become outdated, which is where data appending swoops in to save the day.
Updating your data manually can be a taxing process, but data appending streamlines and automates most of the work for you. We'll aim to clear up any confusion surrounding the process, so you can bring your CRM up to speed with your nonprofit's fundraising and marketing efforts.

What Is A Data Append?
A data append is the process of adding missing or updating existing data points in an organization's database. The process involves comparing the existing database to a larger, more comprehensive data source. Data append services use external data sources to fill gaps in data, including:
Contact details
Demographic data
Behavioral information
Employment details
For nonprofits, regularly conducting data appends allows them to maintain clean donor data and gain more comprehensive insights into their supporters. Ultimately, accurate data can help inform fundraising and donor cultivation strategies.
Why Is Data Appending Important?
At its core, data appending enhances your data quality by filling in gaps and correcting inaccuracies. In turn, you can strengthen your donor management and boost the impact of each dollar you spend.
Beyond simply cleaning up your donor database, you stand to benefit a lot from the appending process. Backed by accurate and complete data, you can do the following:
Personalize outreach: Marketers use data to personalize communication, content, and offers to the individual needs and preferences of the recipient. Customizing outreach to suit each individual makes for a memorable supporter experience. Appending demographic and behavioral data can help nonprofits personalize communication and engagement efforts.
Update contact information: Supporters move and change their contact information all the time. Appending emails, phone numbers, and other contact information allows you to stay connected when they forget to inform you of any changes.
Cultivate donor relationships: Sending appeals based on accurate data allows you to present valuable engagement opportunities and communicate that you care about each individual donor. When you consider their interests and demographic details, they're more likely to respond positively to your outreach.
Ultimately, data appending can enhance your understanding of supporters, which will shine through in your outreach. In turn, you can drive greater fundraising outcomes and stronger supporter relationships.
How Data Appending Works
At the surface level, data appending seems like a simple process, but there's a lot that goes on behind the scenes to ensure accurate data. NPOInfo's guide to data append services breaks the process down into six steps that a service provider will follow: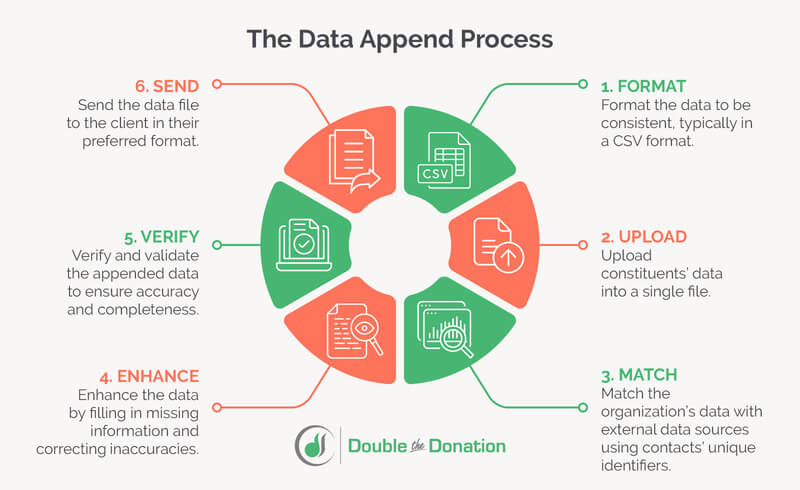 Format the data to be consistent, usually in a comma-separated value (CSV) format, to be properly analyzed.
Upload the data into a single file and send it to the secure file transfer protocol of the specific service.
Match the organization's database with external data sources using unique identifiers, such as contacts' names, addresses, and phone numbers.
Enhance the data by filling in missing information and correcting inaccurate data for corresponding records in the organization's database.
Verify and validate the appended data to ensure accuracy and completeness. This ensures the supplemental data is high-quality and can be used for donor cultivation.
Send the data file to the client to be downloaded for their use. The file can be offered in essentially any format the client wants.
The process is simpler for nonprofits using these services. From the nonprofit perspective, all you really need to do is send your constituent information to a provider. Then, they'll take it from there!
Types of Data You Can Append
As a nonprofit marketer, you're likely flooded with new data points at every turn. With all the constituent data you collect through volunteer registrations, events, and donations, it can be challenging to filter it down to the most helpful details.
When it comes to data appending, we already know the burning question that's on everyone's mind: What information is actually worth appending?
Knowing which information will actually propel your marketing and fundraising efforts forward will help you extract the right constituent information. That way, you won't clutter your database or waste money on unnecessary data.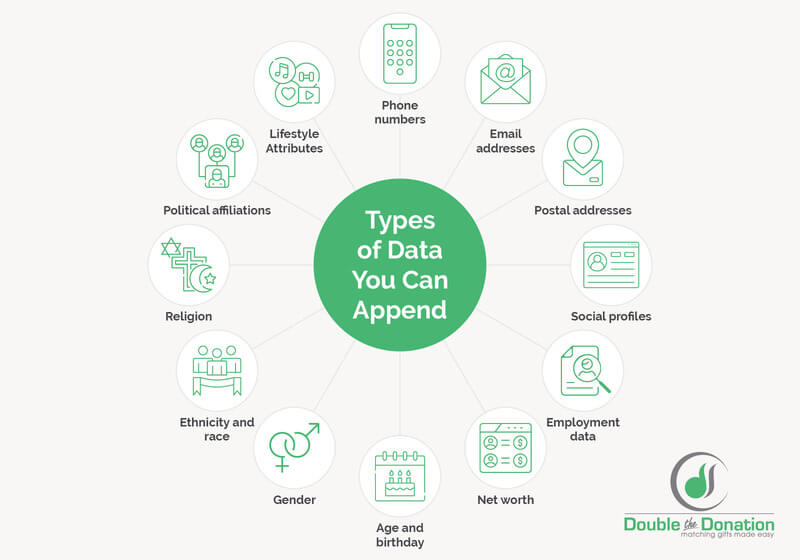 Contact Information
Like we've touched on, your constituents move, change their phone numbers, and get new email addresses all the time. Having accurate contact information will allow you to successfully deliver appeals and stay in contact.
Leverage data appending to verify contact information, including:
Phone numbers. Contacting donors via text or phone call can be a more personal way to connect. It also opens the door to innovative fundraising strategies like text banking and text-to-give. Phone number appends ensure you have the right phone number for each supporter at all times!
Email addresses. Email marketing remains to be one of the most lucrative digital marketing avenues for nonprofits. Make sure you have the right email addresses for supporters by conducting this type of data append.
Postal addresses. Digital marketing might be the default for your outreach, but some supporters still prefer the personal touch of direct mail. Plus, knowing people's addresses allows you to send nearby opportunities. Ensure your solicitations are delivered to the right addresses with a postal address append.
Social profiles. As a marketer, you know the immense power that social media holds since it can connect you with a global audience. Connect with current supporters and inspire them to share your cause online by finding their social media profiles.
Open communication is the foundation of your nonprofit's efforts, making this one of the most helpful types of data appends. If your email bounce rates have skyrocketed or you get sent straight to voicemail, a data append can verify whether you have the right contact details for constituents.
Employer Data
We can't emphasize the importance of corporate philanthropy enough. Between matching gifts and volunteer grants, your nonprofit stands to gain a lot from promoting these opportunities to supporters.
However, to cash in on these opportunities, you need accurate employer data for constituents. That's where an employer append comes in handy. NXUnite's guide to data appending explains that knowing employment details empowers your team to:
Uncover corporate giving opportunities. Knowing where your donors and volunteers work enables you to find employers' corporate social responsibility (CSR) guidelines. Then, you can determine your supporters' eligibility for matching donations and volunteer grants.
Identify corporate partnerships. If several of your supporters work for the same company, that's a huge indicator that the business might be a strong candidate for a corporate partnership. Use that information to kickstart a conversation with the company. You might even have supporters facilitate introductions with company leaders.
Estimate wealth data. While not a direct wealth indicator, knowing who employs your donors and what their roles are can help you estimate their incomes and giving abilities.
Between driving donor engagement and establishing meaningful corporate partnerships, there's a lot you can benefit from when it comes to employer appending. We recommend pulling this information, if you're looking into data enhancement.
Demographics
A supporter's demographics can give you insight into their backgrounds, values, and philanthropic priorities. This type of data append allows you to extract important background details like:
Net worth
Ages and dates of birth
Gender
Ethnicity and race
Marital status
Political affiliation
Lifestyle attributes like hobbies and interests
Whether you want to send a birthday gift or verify contacts have a certain political affiliation, demographic data appends allow you to deliver highly-personalized outreach that speaks to supporters' interests.
Other Resources to Explore
Nonprofit Basics – Learn more nonprofit management essentials by exploring other expert resources.
Demographic Appends: Stewarding Relationships Through Data – Dive further into the benefits of demographic data appends and learn how to get started with this guide.
What Is an Email Append? All Your Questions Answered – Boost your deliverability rates and stay connected with your supporters by learning all about email data appends.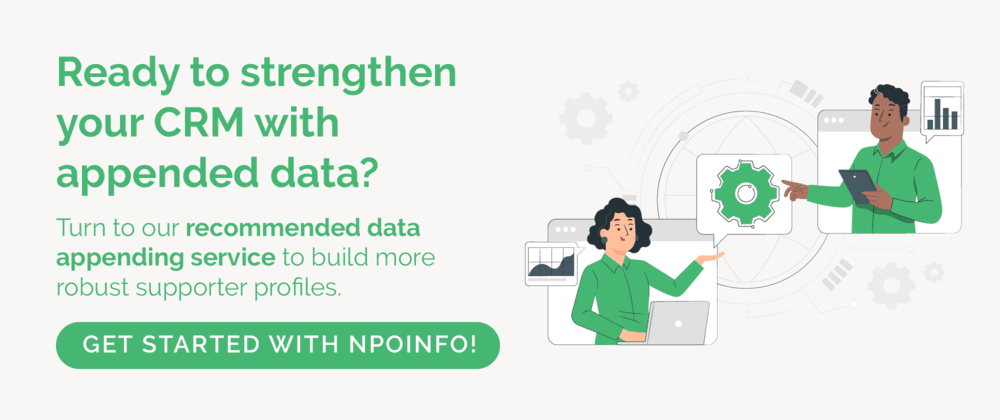 https://doublethedonation.com/wp-content/uploads/2023/04/Data-Append_Feature.jpg
380
1000
Adam Weinger
https://doublethedonation.com/wp-content/uploads/2022/03/logo-dtd.svg
Adam Weinger
2022-11-25 20:23:40
2023-05-03 13:21:59
Nonprofit Basics: Data Append