Nonprofit Basics: Donation Matching
Corporate philanthropy is a powerful concept. Through employer giving initiatives, companies and their employees can make major differences in the causes that mean something to them. Donation matching is one of the most popular ways companies give back to their communities.
Through this type of workplace giving program, nonprofits can multiply the donations they're already receiving. We'll explore the basics of donation matching, providing you with tips for getting started at your organization.
What Is Donation Matching?
Donation matching is a corporate giving initiative in which companies match their employees' charitable donations. When an employee donates to a nonprofit, they'll submit a request to their employer. Then, the company will then make its own donation to the same organization.
Most often, companies match gifts at a 1:1 ratio, or a dollar-for-dollar rate, which doubles the initial donation. So, if an employee donates $50, the company will donate $50 to the nonprofit.
What Are The Benefits of Gift Matching?
At its core, donation matching provides nonprofits with free money! Nonprofits can multiply an organization's revenue by making donations go further and ensuring donors feel like they're making a difference. When you notice many of your donors work for the same company, that can also indicate a potential corporate partnership opportunity.
An astounding $2-$3 billion is donated through gift matching each year. However, there's an additional $4-$7 billion that goes unclaimed, according to Crowd101's corporate giving statistics page.
So, while donation matching can transform fundraising revenue, not enough organizations are leveraging these programs!
From the corporate perspective, companies can increase employee satisfaction and position their organization as a desirable place to work. In fact, 88% of companies believe effective employee engagement programs like matching gifts help attract and retain employees. Not to mention, for-profits can give back to their communities and attach their names to worthwhile causes.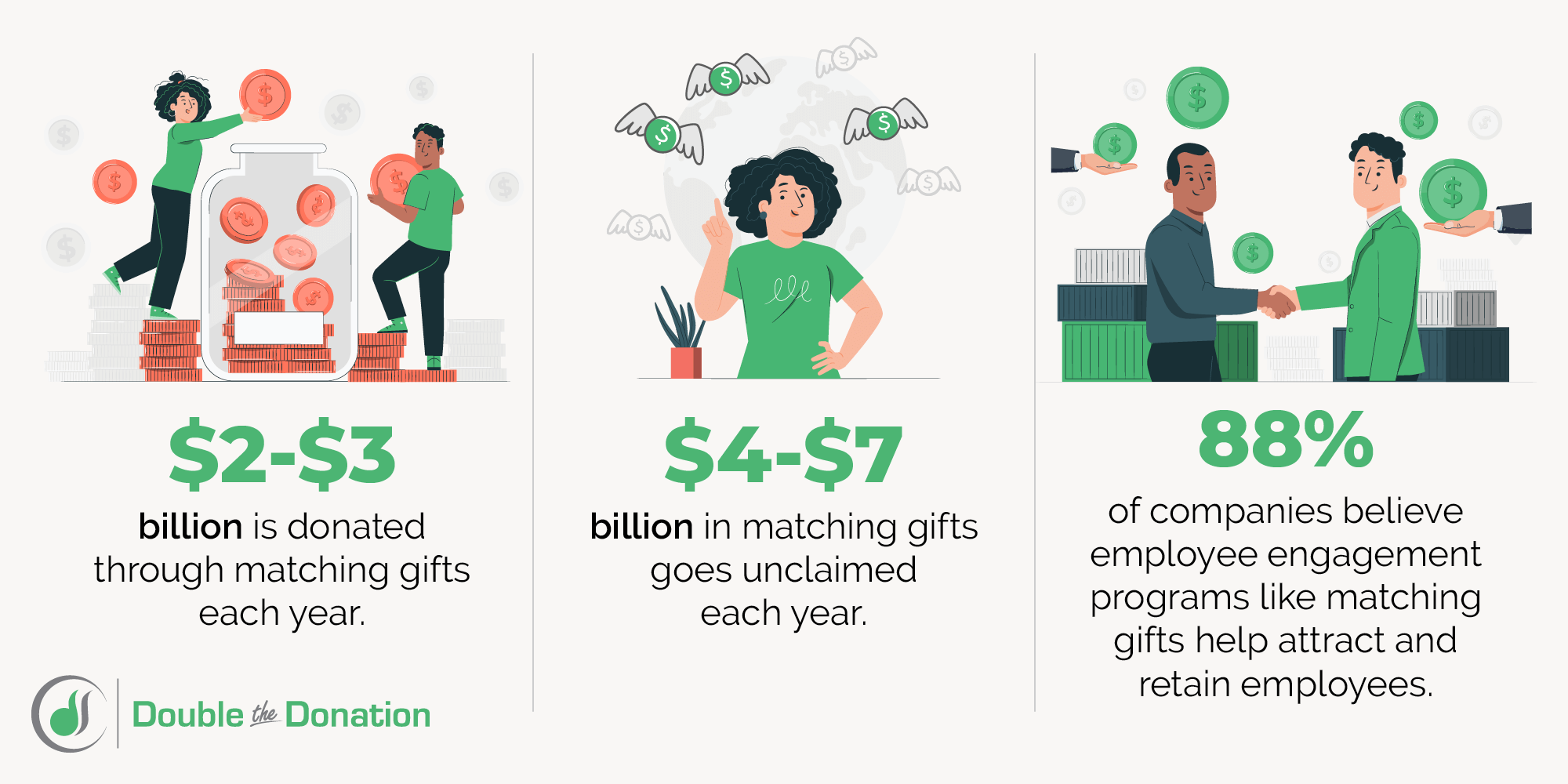 How to Get Started with Donation Matching
Pursuing gift matching is a smart move! Now, you're probably wondering where to start. Here are some easy ways you can fold donation matching into your current fundraising activities.
Know how these programs are constructed.
Before scouring your CRM for donation matching opportunities, take the time to understand how these programs are set up. Dedicated matching gift training can go a long way in empowering your team to successfully guide donors through the process.
Companies create guidelines to ensure the donations they're giving will make a difference in causes that align with their objectives. Our guide to corporate matching gifts breaks these guidelines down into a few pieces, including:
Match ratio. This is the rate at which a company will match each donation. For example, most companies will match at a 1:1 ratio (i.e., a dollar-for-dollar rate). Other companies may go lower or higher, typically anywhere from .5:1 to 3:1.
Minimum and maximum match. Companies apply minimums and maximums to their gift matching programs. The most common minimum is $25, although some go as low as $1. Maximums typically range from $1,000 to $5,000 but sometimes go even higher than that.
Employment status. An individual may not be eligible for gift matching depending on their employment status. For instance, a company may limit participation to just full-time and retired employees, excluding part-time workers.
Nonprofit eligibility. Typically, companies allow most 501(c)(3) organizations to be eligible. The most common restriction is for religious organizations. Employers typically won't match donations made directly to houses of worship.
Submission deadlines. Deadlines ensure match requests are submitted in a reasonable amount of time. Companies usually require requests to be submitted by the end of the year or within a set number of months after the donation is made.
Every company's guidelines are different. That's why investing in a matching gift tool is critical. As we'll explore later, an employer search tool will instantly pull employers' guidelines, so you can keep track of donors' eligibility.
Market donation matching to donors.
Bloomerang's guide to donor engagement explains that matching gift eligibility can signal potential long-term donor relationships. Push these relationships in the right direction by promoting matching donations to your donors!
Here are a few key moments to promote donation matching:
During the donation process. Include a snippet about gift matching on your donation form. This is a prime opportunity to feature your employer search tool. Your donors may even increase their initial donations after finding out they're eligible.
Throughout your website. Feature information across your website, encouraging donors to check their eligibility. You can even create a page devoted to explaining donation matching and its impact on your cause.
Across communications. From your newsletter to social media posts, you can include donation matching in any of your communications.
Start marketing matching gifts to your donors through these avenues, so you can obtain your portion of the billions of dollars that go unclaimed each year! Automating your outreach using your dedicated tools will simplify your nonprofit's marketing even further.
Leverage gift matching tools.
Dedicated employer giving tools will help you drive more matches to completion.
To start, embed an employer search tool into your donation page, confirmation page, and anywhere else on your site. This will empower donors to research their employers' programs and find the necessary forms at any point.
As the world's most comprehensive, accurate matching gift database, Double the Donation has records on over 24,000 companies, representing almost 27 million match-eligible individuals.
That way, you can relax knowing you'll be able to determine your donors' eligibility within seconds. Our gift matching tools with auto-submission functionality take this a step further. You'll remove steps for the donor by enabling them to submit forms directly from your confirmation page. As soon as someone donates, here's what will happen:

Our tools will check their donation's eligibility for auto-submission.
If eligible, they'll be prompted to provide a few pieces of additional information and check a box authorizing Double the Donation to submit a match request on their behalf.
Their matching gift request will be submitted, and the employer will send a check to the nonprofit.
That's it! There's no need for donors to fill out complex forms or navigate confusing employer giving portals anymore. Simplifying the matching gif process means more revenue for your cause.
Other Resources to Explore
Nonprofit Basics – Learn more nonprofit management essentials by exploring other expert resources.
Matching Gift Auto-Submission + CSR Platforms | What to Know – Curious about what gift matching auto-submission entails? Check out this blog post that gives a rundown of the process.
Corporate Philanthropy – Nonprofit Catalog – Donation matching is just one piece of the corporate giving puzzle. Learn about other types of corporate philanthropy with this guide.
https://doublethedonation.com/wp-content/uploads/2023/01/Donation-Matching_Feature.jpg
760
2000
Adam Weinger
https://doublethedonation.com/wp-content/uploads/2022/03/logo-dtd.svg
Adam Weinger
2022-07-12 16:25:50
2023-07-06 15:39:57
Nonprofit Basics: Donation Matching